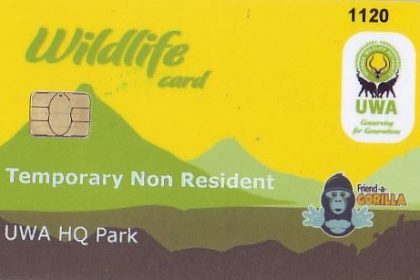 Uganda gorilla trekking permit prices increased to 700 USD starting July 2020 – Travel News
Uganda Wildlife Authority sets new gorilla permit prices to 700 USD  effective 1st July 2020
The Uganda Wildlife Authority (UWA) announced an increase on the Uganda gorilla trekking permit prices from the current 600 USD to 700 USD effective 1st July 2020 for foreign non residents. From 1st July 2020 each foreign non resident planning to take a gorilla tour will pay 700 USD per person per trek for both Bwindi Impenetrable National Park and Mgahinga Gorilla National Park. Foreign residents with a working permit will pay 600 USD and East Africans from Uganda, Kenya, Rwanda, Tanzania, Burundi and Southern Sudan will pay 250,000 UGX. This was announced during a consultative meeting organized by the Association of Uganda Tour Operators (AUTO).
Currently, Uganda gorilla trekking safaris have been sold at 600 USD per person per trek for foreign non residents travelers above the age of 15. The permit is valid for a single trek with a maximum of 1 hour in the presence of the elusive Mountain Gorillas.
The gorilla permit price is a general price for the two Uganda gorilla safari destinations of Bwindi Impenetrable National Park and Mgahinga Gorilla National Park. The increase of the gorilla permit price in Uganda by USD 100 still leaves the country as a favorable gorilla trekking destination as it remains at a lower price than the neighboring Rwanda with permit prices at 1500 per gorilla permit per trek.
Foreign non residents: 700 USD from 600 USD
Foreign residents: 600 USD from 500 USD
East Africans: 250,000 UGX
Book a Uganda gorilla permit and visit either Semuliki or Mount Elgon National Parks
With the current increase on the gorilla permit prices to USD 700, Uganda gorilla safari tourists have the advantage of choosing to either visit Semuliki National Park or Mount Elgon National Park. This has been done to encourage tourists spend more time in Uganda visiting the Semuliki National Park which is a good bird watching spot or hiking Mount Elgon. The popular 3 days Bwindi Uganda gorilla trekking safari can now be extended to either 4 or 5 days with a free visit to another park.
Why trek Mountain gorillas in Uganda
Uganda is host to the largest population of Mountain gorillas in the world with half of the total in the country.

Mountain gorilla trekking in Uganda is cheaper compared to the neighboring country of Rwanda with permit prices at 1500 USD. The neighboring Congo also has Mountain gorillas though has been politically unstable despite its gorilla trekking permit being sold at USD 400 -450 in the low and high seasons respectively.

The Mountain Gorilla tracking experience of Bwindi Impenetrable National Park is much more of an experience itself alongside seeing the gorillas. The park rises on an elevation of 1,190 to 2,607 meters giving a mystical challenge to trekkers. The forest itself is an amazing place to visit with several flora and fauna species.

Mgahinga Gorilla National Park is the only Uganda safari destination where Mountain gorillas co-exist with golden monkeys. As an add on activity, golden monkey trekking is the best option and much amazing to glimpse at these playful monkeys.
For avid birders on Uganda birding safaris, the two parks for mountain gorilla trekking are the best parks for bird watching and seeing the Albertine rift endemics.

Uganda is the only world destination that still has mountain gorillas that are not fully habituated and therefore clients can opt to go for mountain gorilla habituation. This offers than chance to spend four hours rather than one hour studying the behavior of these giants and probably their real before in the wild without getting used to human beings. Mountain Gorilla habituation costs USD 1500 per person.
What are the chances of seeing Mountain Gorillas on a trip?
Mountain Gorillas are wild animals and therefore move from one place to another and this raises the question of what chances are there for a trekker to see a mountain gorilla. The chance of seeing a mountain gorilla is 99.9%, this is because each morning before a total of 8 trekkers are sent to meet a gorilla family, park trackers first find out the location of the gorillas. The other reason is that during booking, a tourist is allocated an available gorilla family.
Uganda Gorilla Trekking rules and regulations
Do not visit the gorillas if you have a cold or other infectious illness
Human waste should be buried 30cm deep
Maximum number of visitors is eight persons per gorilla group each day
Maintain a 7m (21ft) distance from the gorilla
Smoking, eating and drinking are not permitted on the tour
If you must sneeze or cough cover your face and turn away from the gorillas, as they can catch coughs and colds from humans
Visits are limited to one hour per gorilla group per day
Do not use flash photography
Best time for gorilla trekking Uganda safaris
The best time of the year for a gorilla tracking safaris is during the dry season months of June –August and December –February which makes it easy to go through the trails. When trails are drier, gorilla trekking is easy since trails are passable and the park is accessible. It is best advisable to track gorillas during the dry season since it's easy to trek gorillas as well as view wildlife. However, the dry season is actually the peak or high season therefore early booking is recommendable since permits can easily get fully booked as well as accommodation.
How to book for a Uganda gorilla trekking safari
Booking for a gorilla tour Uganda can be one of the complicated trips to plan, however just find the right tour operator to do this for you. Wild Jungle Trails Safaris and Gorilla Trail Safaris have expertise in planning gorilla trips in Uganda and can do all the best planning.
Other tariff increments by Uganda Wildlife Authority
There is a 50% increment in the permit fee for both chimpanzee tracking and habituation for foreign residents and foreign non residents
Foreign non residents: 200 USD from 150 USD
Foreign residents: 150 USD from 100 USD
East Africans: 150,000 UGX
Foreign non residents: 250 USD from 200 USD
Foreign residents: 250 USD from 200 USD
East Africans: 150,000 UGX
UWA managed trails for Mountain Rwenzori trekking
Foreign non residents: 50 USD
Foreign residents: 50 USD
East Africans: 50,000 UGX
Golden Monkey tracking including entrance fee
Foreign non residents: 100 USD
Foreign residents: 90 USD
East Africans: 6000 UGX
For bookings, you can reach us on these emails – wildjungletrails@gmail.com, tours@wildjungletrails.com or call us on (+256) 777690798 / (+256) 414663115.
Authored By  Wild Jungle Trails Safaris