Rwanda
Why go to / visit Rwanda – Why choose Rwanda safari
Small, beautiful and easy to travel around, Rwanda has dealt with her tragic past and prides in offering intrepid world travelers a lot on the beauty the wild has to offer. Rwanda safaris
Dubbed the land of a thousand hills, the country lies just south of the equator in the heart of Africa with Rwanda safaris especially gorilla trekking safaris to Rwanda's Volcanoes National Park. Rwanda is host to several wildlife species with Mountain Gorilla trekking, chimpanzee tracking safaris, bird watching, cultural tours and canopy walks are the top Rwanda safari activities.
Many tourists visit Rwanda in most cases as an add on safari activity especially by tourists on safaris in the surrounding countries but yet the beautiful land of a thousand hills can be discovered on short or long Rwanda safaris.
Overview: Why go to / visit Rwanda – Why choose Rwanda safaris
1. Mountain Gorilla tracking – Rwanda Gorilla safaris
Mountain Gorilla trekking is majorly described as a lifetime experience, hosted within the Virunga massifs' Volcanoes National Park, Rwanda gorilla trekking safaris are definitely the main draw card for any Rwanda tour.
Mountain Gorillas are only still existent in three of the world countries being Rwanda, Uganda and Congo offering trekkers unique experiences not comparable to any other trip. Rwanda is one country that has strong conservation efforts that have seen these great apes increase in number topping to 1004 as of 2019.
Mountain Gorilla trekking is the most expensive of the Rwanda safari activities just because Rwanda is a high-end safari destination but also the popularity of the activity worldwide. It was in the bamboo covered slopes of Volcanoes National Park where the late Dian Fossey, a popular primatologist who gave her life to conserve Mountain Gorillas studied the behavior of the endangered species for 20 years. Ever since then, a few privileged gorilla safari Rwanda tourists have the chance to trek Mountain Gorillas each day.
Better undertaken on a well-tailored safari to Rwanda, Rwanda gorilla safaris can be combined with Rwanda wildlife safaris or with other country tours especially Uganda, Congo, Kenya and Tanzania.
2. Nyungwe Forest Canopy Walk
Nyungwe Forest National Park is with no doubt one of the key reasons why Rwanda is a top tourist destination.
This is the largest protected mountain forest in Africa that covers about 1600 and 2000sq meters, a great place for relaxation and adventure. Nyungwe forest is host to a 200m canopy walk way that offers the best of the experience that can't be compared to any kind of canopy walk in East Africa. 60m above the forest floor, this suspended bridge offers tourists 2 hours walk experience above huge tropical trees with a feel of the fresh air and glimpse of several bird and wild life.
This canopy walk gives breathtaking views across the misty forest with scenic sightings from above the huge trees, a perfect way to have a view of the forest during a Rwanda tour.
Wildlife; The beautiful varied landscapes of Rwanda are host to numerous wildlife species. Mountain Gorillas have been the popular wild species found at Volcanoes National Park but then not the only animal species in the beautiful land of a thousand hills. The greatest diversity of the large mammals is in the Rwanda safari National Parks. Akagera National Park found north East of Rwanda along the border with Tanzania is home to typical savannah animals including the big five African game.
Buffaloes, Rhinos, Elephants, Lions, Leopards, Zebras, Giraffes, Elands, Topis, Maasai giraffes, Monkeys, Civets, Hyenas and several cats are part of the wild game that can be spotted on a wildlife safari Rwanda game drive.
Some of these species had been extinct but later re-introduced to the park, thanks to the country's strong conservation efforts. In 1986, Masai giraffes were introduced to Akagera National Park from Kenya and of recent their population has grown to over 80 individuals. July 2015, seven lions were introduced and released in to the park from South Africa, the population has since then grown to over 20 animals and it keeps growing. May 2017, Rwanda re-introduced around 20 Eastern black Rhinoceroses to Akagera Park from south Africa.
This strong re-introduction process left Akagera National Park as a big five Rwanda wildlife safari destination and a sought after destination for Rwanda tours with about 13,500mammal species.
Nyungwe Forest National Park boasts thirteen (13) primate species including chimpanzees (man's closest relatives) and the best destination for a Rwanda chimpanzee tracking safari or primate tour in Rwanda. Other primate species in Nyungwe Forest include the Ruwenzori Colobus arboreal monkeys, a primate specie that moves in troops of about 400 individuals; the largest troop size of any primate in Africa giving a memorable lifetime sight on safari.
Gishwati-Mukura National Park in the north western part of Rwanda was gazette in 2015 and it's the country's newest national park. Gishwati-Mukura National Park joins forests Gishwati and Mukura offering a great wildlife corridor for primates like the Black and White Colobus monkeys, L'Hoest Monkeys, Blue Monkeys and golden monkeys.
3. Golden Monkey trekking
Rwanda is blessed to be one of the countries where the rare golden monkeys can be spotted. Golden monkeys also known as the Cercopithecus Mitis Kandti is a local sub sopecies of the Sykes monkey also known as the Blue, found in Rwanda too. Golden monkeys are a beautiful specie ranging from their long tail, coat to their playful and intrusive character known to be endemic to the high-altitude forests of the Virunga massif.
Golden Monkeys spend most of their time leaping on the bamboo branches creating beautiful moments to glimpse at during a Rwanda safari.
Golden monkey trekking is popularly undertaken by safari Rwanda tourists as a combined activity to Rwanda gorilla safaris since they co-exist with the gentle Mountain Gorillas. Golden monkeys move in groups comprising of around 80-100 members and in Volcanoes National Park, there are two habituated golden monkey groups.
So similar to Rwanda gorilla trekking tours, golden monkey trekking is carried out every day by 8:00am Rwanda local time and it lasts about 4 hours though spending only 1 hour in the presence of the golden monkeys. Thanks to the bamboo forest, it is easy to find the golden monkeys because they mostly live at the bottom of the forest making it easy to trace them. With the less congested bamboo sticks, it is also easy to get good photos as long as a traveler has a lens to capture the beautiful monkeys since they leap so fast.
4. Bird watching / Rwanda birding safaris
According to Birdlist Organization (https://www.birdlist.org/) its stated that the number of species of birds registered in Rwanda according to the WICE Criteria is 711. Rwanda is home to bird species that vary from residents, that stay in Rwanda all year round, breeding birds, that spend most of the growing season in Rwanda to raise their young, migrants that pass through Rwanda seasonally to wintering birds who choose to spend most of the winter season in Rwanda escaping the colder conditions up north.
Any Rwanda bird watching safari tourist can expect to have on their check list waterfowl and wading birds, several song birds, raptors, swifts, nighthawks and many more.
On birding safaris Rwanda, birders can expect to sight bird species like the Common Quail, Blue Quail, Fulvous Whistling Duck, White-backed Duck, Egyptian Goose, Yellow-billed Duck, Spur winged Goose, Common Teal, Hottentot Teal, Greater Honeyguide, Lesser Honeyguide, Dwarf Honeyguide, Buff spotted Woodpecker, Nubian Woodpecker, Helmeted Guinea fowl, Southern Pochard, Black-rumped Buttonquail, Northern Pintail and many more.
Bird species seen on an Albertine rift birding safari in Rwanda include; the African Green Broadbill, Lagden's Bush-shrike, Red-faced Woodland Warbler, Dusky Crimson-wing, Rwenzori double collared Sunbird, Grauer's Rush Warbler, Kivu Ground Thrush, Handsome Francolin, Rwenzori Turaco, Common Moorhen, Long-Crested Eagle, Grey Throated tit, Paradise Flycatcher, Archer's ground Robin, Collared Apalis, Rwenzori Batis, African Marsh Harrier and many more.
5. A Rwanda Cultural tour
In 1994, Rwanda faced a tragic moment in an incident which till date is referred to as the Rwanda Genocide. Since then, the country has done its best to see it revive its glory and today its one of the fastest growing countries in the African continent, in fact, the country with the biggest population of women in parliament.
Rwanda safaris are safe to undertake and one of the best ways of connecting or understanding the natives is by undertaking a cultural tour in Rwanda especially to the museums. Rwanda cultural tours can be undertaken in any of these museums;
Presidential Palace Museum
This is one of the new museums found in Kigali that gives travelers a chance to visit the former state house of Rwanda (1970s up to the 1990s) as well as acquire an overview of Rwanda's history. The presidential palace museum is located in Kigali city about 2km from Kigali Airport. Travelers can also visit some of the flight debris of the FALCON 50 which is the presidential plane that went down on 6th April 1994.
National Liberation Museum Park
80km North East of Kigali city, the National Liberation Museum Park is found in the northern province of Gicumbi district. This Museum tells the story of the Rwandan liberation struggle which brought to an end the Genocide of 1994. The National Liberation Museum also illustrates the sequence of events before, during and after the real struggle through the visuals displayed in the Museum including texts and artifacts.
Built in 1987, the Ethnographic Museum is located in Huye District, 132km south of Kigali city. The Museum consists of seven galleries that display ethnographic, artistic, historical and archeological artifacts accompanied by visual aid giving tourists a rich insight about the culture of Rwanda.
The National Art Gallery museum mainly displays contemporary artworks of Rwanda which shows the originality of Rwandan creativity overlooking either tradition or the national history. It's situated in Nyanza district which is about 85km south of Kigali city.
Situated in Nyanza, 88km south of Kigali city, this palace offers a detailed look into the traditional seat of the monarchy of Rwanda. It was a residence of King Mutara 111 Rudahigwa and the royal palace, it's an impressive museum which was restored to its 19th century state and was made entirely with the traditional materials. On a Rwanda safari with interest in cultures and traditions of the African monarchies this is one perfect place to visit.
The Museum of Environment
Located in the western province of Rwanda, the museum of the Environment is an educational aid for the extension of knowledge which is in relation to prevention as well as protection of the environment as well as climate change that causes disasters including the threat to humanity, extinction of certain animals and plants. No wonder Rwanda has regained her glory with more wildlife species regained in the country and Mountain Gorilla numbers increasing.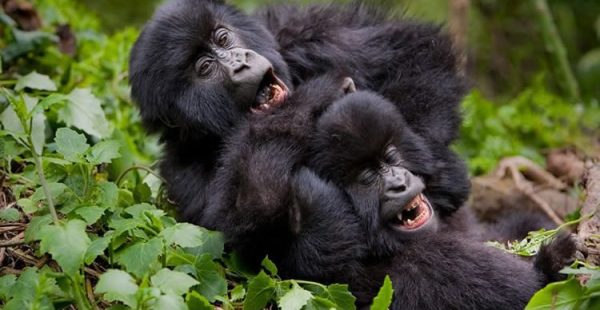 This 3 days Rwanda gorilla safari is a short gorilla trekking safari to Rwanda's Volcanoes National Park. This is the only gorilla safari Rwanda destination situated within the Virunga Mountains in north western Rwanda adjacent to Uganda's Mgahinga Gorilla National Park and Virunga National Park of Congo. Read More