Why book with Us?
Why book a safari with Wild Jungle Trails Safaris?
Wild Jungle Trails Safaris, With several years of travel and tour guiding, our team of experts have mastered the art of planning memorable trips after having experienced almost every activity. Having been there, many travelers have trusted us to plan tailor-made Uganda safaris as well as tours to other African destinations for the past decade, here is why;
We  tailor trips to your desire
We have built trust from our clients through listening; this is because we believe that each of our packages can have another option from the client. Each of the tour packages you find on this website has been planned with experience and expertise; however, we believe that each package can and is ably customized to suit your interest.
Whether you want to catch up with old friends, want to go for charity, need to just get out and relax and any kind of your interest we shall do our best to see it delivered just like you would wish to.
We help you choose the best destinations 
We know Africa, and are proud of that. Our experience in Africa and safari destinations for the past years has given us the confidence to help new travelers choose the best destinations. We are in the field all year round running trips and therefore, know where best to go in each season.
You don't need to know where to go throughout the trip, just contact us and we shall give you several options of your kind of tour and why it can be that way. Wild Jungle trails safaris
Tour with knowledgeable guides
Wild Jungle Trails Safaris partners with professional and knowledgeable Uganda safari guides as well as other Africa tour guides to deliver the best services to our clients. We work closely with passionate and experienced English speaking safari guides who are knowledgeable about mammals, flora, birds, butterflies, culture and a lot more.
Our guides are well experienced with driving and familiar with the terrain. Take advantage of their expertise and learn a lot during your trip. For tourists who need translators this can be organized at an extra cost.
We keep in contact with you
From the time you contact us, we shall communicate with you each detail of your trip. We do not make any adjustments without your consent and therefore you stay in control of your trip as we do bookings.
Before the trip, you can contact us via email through our website, on Whatsapp, Skype or any other comfortable way to you. During the trip, we keep in contact and respond to your interests if any.
We would also love to keep in touch with you after your trip. Your feedback, trip photos , safari reviews mean a lot to us and we always say thank at the end of it all.
Wild Jungle Trails Safaris, We carefully plan trips that suit our clients and make it possible for them to have memorable trips with affordable costs. We choose especially mid-range accommodation facilities to make our trips less costly. However, all kinds of travelers can be catered for.
Our trips are not about being affordable but also offering unparalleled safari experiences and definitely value for money.
Proceeds support community
Wild Jungle Trails Safaris offers Popular Safaris by Experiences – Top Safari Activities in Uganda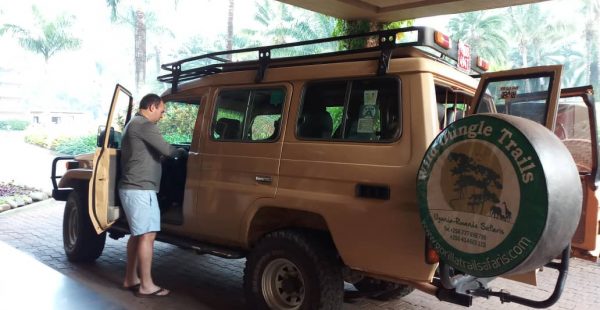 Long Uganda safaris Book Discounted Long Uganda safaris for 6 Days and above these include; Gorilla trekking safaris, wildlife safaris, chimpanzee trekking safaris in Uganda.Read More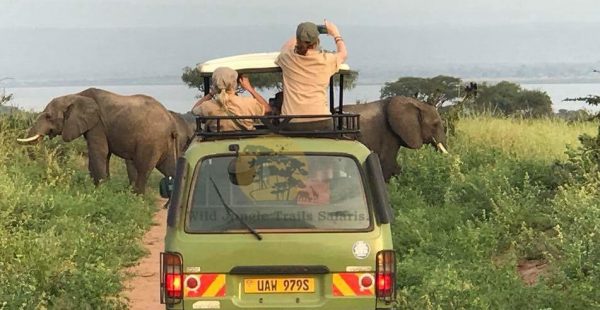 Short Uganda Safaris Book a discounted Uganda safari that takes (1, 2, 3, 4, 5 Days) it includes Gorilla trekking safaris, day trips, white water rafting in Jinja and boat cruise Uganda safaris. Read More
Popular Safaris by Experiences – Top Safari Activities in Rwanda