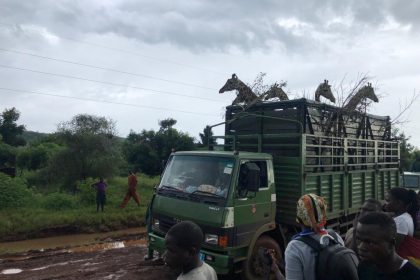 Pian Upe Wildlife Reserve Welcomes First Batch of Five Rothschild Giraffes
On the 28th of October 2019, 5 Rothschild Giraffes were released into Pian Upe Wildlife Reserve by the Uganda Wildlife Authority (UWA). The reintroduction of the Rothschild Giraffes into the Pian Upe Wildlife Reserve will see a total of 15 giraffes, 5 males and 10 females back to the reserve. All of these giraffes are being translocated form Murchison Falls National Park which is home to the highest population of the Rothschild Giraffes in Uganda and probably Africa.
Present parties during the reintroduction of the Rothschild Giraffes into Pian Upe Reserve included Dr. Panta Kasoma representing the Chairman UWA Board of Trustees, Mr. Leonard Wamakote member of UWA Board of Trustees, UWA management, leaders of districts neighboring the reserve and community members.
"This exercise addresses one of our key conservation objectives of restoring and managing viable populations of extinct or endangered species. We are happy that we now have giraffes in Pian Upe after very many years and we hope this will further enhance tourism in the reserve", Dr. Kasoma stated.
He further added that in addition to increased tourism other benefits such as employment, sale of food and crafts as well as accommodation, increased revenue sharing and other indirect economic benefits will be realized.
UWA Deputy Director Field Operations Mr. Charles Tumwesigye speaking on behalf of the Executive Director said that in a bid to enhance the tourism potential of Pian Upe Wildlife Reserve, UWA last year translocated 92 Impalas into the reserve.
Mr. Charles also added that UWA's efforts to protect the wildlife in the reserve has also resulted to increase in numbers of Roan Antelope, Eland, Zebra, Hartebeest, and Cheetah among others. The three week translocation exercise will enhance the long-term survival of the species; restore natural biodiversity and long-term economic benefits to the entire wildlife conservation value chain. It will also enable communities with cultural attachment to the giraffe to participate in its conservation, enhance the conservation value of Pian Upe Reserve by reintroducing one of its indigenous species that had become extinct there and diversify tourism products with associated ecological and economic benefits and re-enforce/supplement dwindling populations to enhance biodiversity and ecosystem balance and utilization.
Translocation of the Rothschild Giraffes will boost Uganda wildlife safaris in north eastern Uganda combining a trip to the reserve with the surrounding national parks like Kidepo Valley National Park and Mount Elgon National Park. The process is being undertaken with support from the Giraffe Conservation Foundation and Chayenne Mountain Zoo in the United States. Uganda Wildlife Education Centre (UWEC) and Makerere University are also part of the exercise.
A brief about Pian Upe Wildlife Reserve
Located in the northeastern semi-arid part of Uganda, Pian Upe covers an area of about 2043 square Kilometers making it the largest wildlife reserve in Uganda and the second largest protected area after Murchison Falls Conservation Area. This is undoubtedly one of the best kept secrets of Uganda's beautiful wild.
From Kampala, the Pian Upe Headquarters at Moruajore is about 8.5 hours drive. The reserve is found in the districts of Nakapiripirit and Amudat districts in Eastern Uganda. Pian Upe Reserve joins a series of two other protected areas which include Mount Elgon National Park, Matheniko and Bokora wildlife reserves to form the Mount Elgon Conservation Area. This area is managed by the Uganda Wildlife Authority in line with its mandate which is to conserve for future generations.
Some of the wildlife species in Pian Upe include the common Eland, zebras, Hartebeests, Oribis, Gunther's Dik Dik, Cape buffalo, Impalas, Uganda Kob, Waterbuck, Klipspringers, Mountain Reedbuck, and Common Duiker. The Pian Upe wildlife Reserve is a less visited destination compared to the other national parks in Uganda; this guarantees very wild and private sightings within the space of the reserve for those who choose to visit.
Positioned just between two national parks, a visit to Pian Upe Reserve is one way of breaking the long drives to Kidepo Valley National Park or to Mount Elgon National Park from Kidepo. Wildlife safari in Uganda to remote areas of Kidepo can be accompanies with a visit to Pian Upe with the increasing wildlife population in the reserve.
In case you would love to have a wildlife safari to Uganda including a visit to this beautiful Pian Upe Reserve, you can reach us on these emails – wildjungletrails@gmail.com, tours@wildjungletrails.com or call us on (+256) 777690798 / (+256) 414663115.
Authored By  Wild Jungle Trails Safaris