Akagera National Park
Akagera National Park Rwanda
Akagera National Park Rwanda is Rwanda's big five wild game safari destination founded in 1934 in a bid to conserve wildlife, situated North East of Rwanda. The big five were the early sought-after Africa safari wild animals which include Rhinos, Buffaloes, Elephants, Lions and Leopards; these were hard to hunt wild animals.
Background & Location of Akagera National Park
The park was formed by the Belgian government (1934) covering 2,500km2 (970 sq. mi) at the time. Unfortunately, in 1997, it was reduced by size close to 50% when land was re allocated to those who were returning to Rwanda after the civil strife of the 1994 Genocide an act that greatly harmed the area through poaching and cultivation. Till date, this is known to be the best Rwanda wildlife safari destination.
The park sits in the eastern part of Rwanda close to the border with Tanzania and covers an area of 1,122km2.
Best time to visit Akagera National Park
Any time of the year can be best time to visit the park depending on the travelers' interests. For avid birders, each season of the year has special bird species that it offers. The dry season is good for spotting francolins, nightjars, wetland birds and owls. Rainy season is good for sighting bird species like the Lapwings and Open grass land birds. Migratory birds are present in the months of November to April.
The best time for a wildlife safari in Rwanda's Akagera is during the dry month season of June – September and December – February.
How to get to Akagera National Park
Arriving to Rwanda is mostly by air to Kigali International Airport. Other arrivals can also be by road from neighboring countries.
Akagera is about 110km from Kigali –Rwanda's capital which is about a 2.5 hours drive through lush green scenery.
Driving from Kigali, you drive towards the airport and branch off on the left just after 100m from the city.
Continue with the drive east till Kayonza and take the right turn till Kabarondo and take the dirt road just immediately after the petrol station.
Drive for 15km till Rwinkwavu to a sign posted point that leads you to the gate after about 13km.
About 28km to the park are dirt roads and therefore using a 4×4 wheel vehicle is recommended.
Attractions in Akagera Park Rwanda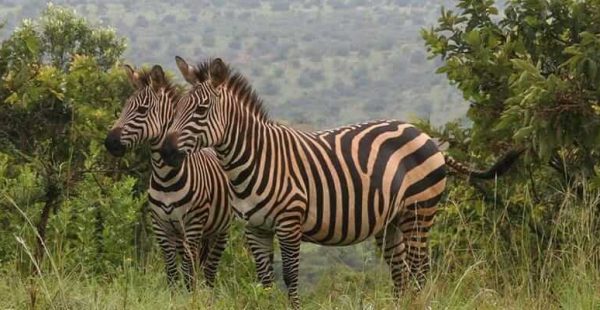 Wildlife 
In 1986, Masai giraffes were introduced to Akagera National Park from Kenya and of recent their population has grown to over 80 individuals. July 2015, seven lions were introduced and released in to the park from South Africa, the population has since then grown to over 20 animals and it keeps growing. May 2017, Rwanda re-introduced around 20 Eastern black Rhinoceroses to Akagera Park from South Africa.
More wildlife species that can be spotted in the park include Zebras, Elands, Topis, Monkeys, Civets, Hyenas, Antelopes, Baboons and several cats.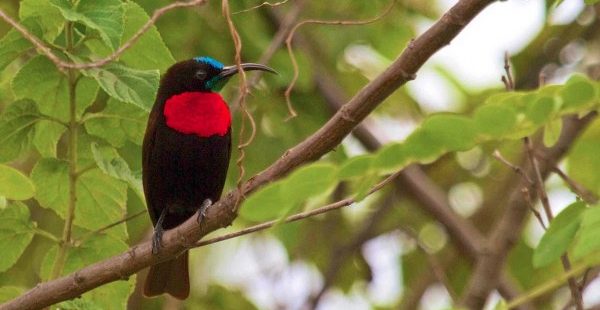 Bird of Akagera National Park
About 490 bird species have been noted to live within the boundaries of Akagera National Park. Of these bird species, 100 bird species are not recorded anywhere else in Rwanda. Its Rwanda's second best birding area after Nyungwe Forest National Park.
Some of the bird species that can be seen on a bird watching safari in Rwanda include, Bateleur, Ruppell's griffon vultures, brown snake eagle, white-backed griffon vultures, African fish eagle, African harrier hawk, African Jacana, Amur falcon, Blue-shouldered robin-chat, Booted eagle, Cabanis's bunting, Crested barbet, Denham's bustard, Papyrus gonolek, Red-faced barbet, Shelley's francolin, Red-winged francolin, sooty falcon, Tabora cisticola and many more.
Safari activities in Akagera National Park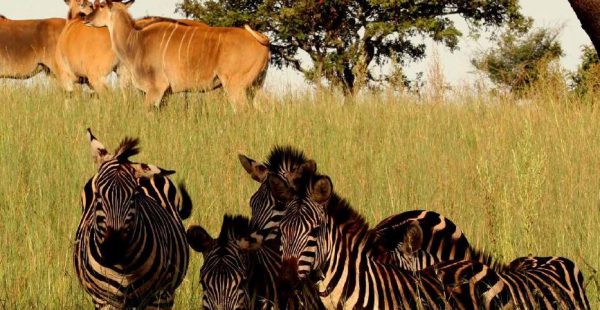 Game drive in Akagera National Park
In the relatively low-lying plains of Akagera the best way of exploring the park is by taking a game drive. This is the best activity in Akagera National Park that gets you up-close to wildlife in the park.
Possible wildlife sightings include Elephants, Lions, Buffaloes, Leopards, Rhinos, Zebras, Elands, Topis, Monkeys, Civets, Hyenas, Antelopes, Baboons and several cats.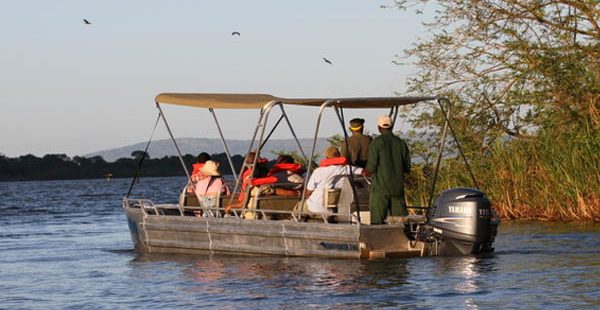 Boat cruise on Lake Ihema
Drained by the Kagera River and several other lakes, Lake Ihema is one of the best spots for a boat cruise in Akagera National Park.  The launch cruise helps you see different aquatic species including large pods of hippos, Nile Crocodiles and lots of water birds.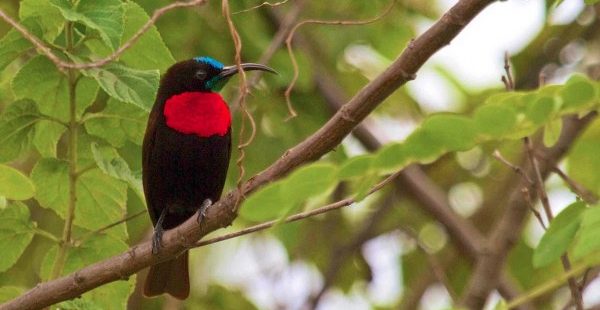 Birding in Akagera
Birding safaris in Akagera are good to undertake at any time of the year with each season offering a different array of species. The dry season is good for spotting francolins, nightjars, wetland birds and owls. Rainy season is good for sighting bird species like the Lapwings and Open grass land birds. Migratory birds are present in the months of November to April.
Rwanda safari packages to Akagera Park Rwanda
Accommodation / where to stay at Akagera Park Rwanda
For all kinds of travelers, accommodation in and around the park can be categorized in to Luxury, Mid-range/standard and Budget/basic. Here is a highlight of where to stay for each type of traveler
Luxury accommodation in Akagera Park Rwanda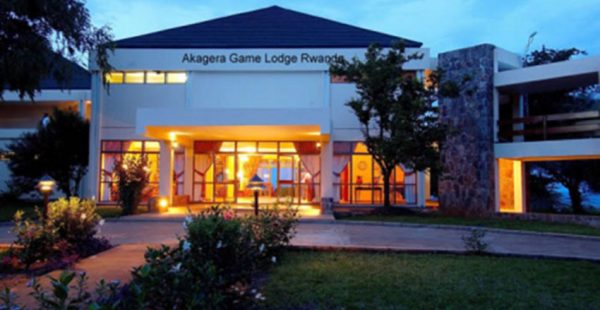 Akagera Game Lodge
Akagera Game Lodge stands on a hill at the southern tip of the Akagera National Park elevated above the Savannah with panoramic views of Lake Ihema, and the smaller Lake Shikani. With 60 rooms, a conference centre, restaurant, and bar – Akagera Game Lodge is the perfect home base while exploring the conservation treasures, simply relaxing or conferencing.
Akagera Game Lodge is situated just 5km from the parks' south entrance. It's easily accessible and Lake Ihema is reachable in just 20 minutes. The 60 rooms have balconies and ensuite bathrooms. A bar and restaurant can all be found at the lodge.
Midrange Accommodation in Akagera Park Rwanda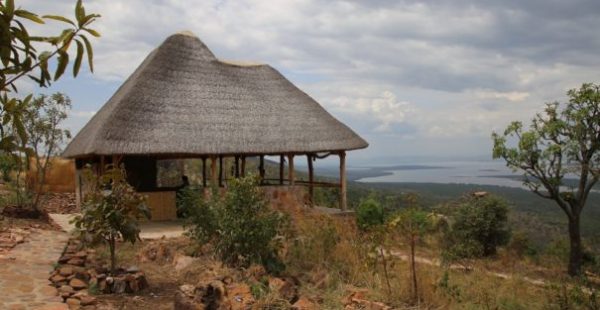 Akagera Rhino Lodge
Akagera Rhino Lodge is located on the edge of Akagera National Park,  a perfect place to sit back and relax.
The lodge is a unique eco-tourism experience overlooking the park where you can connect with nature and enjoy magnificent vistas of the park.
Wood and stone have been skillfully crafted by local artisans into custom rooms and furnishings that give Akagera Rhino Lodge a uniquely Rwandan design.
The lodge is Rustic in nature and has been designed to include the distinctive hallmarks of Rwandan hospitality. Each room is outfitted with premium mattresses; custom furnishing and bathrooms stocked with locally sourced toiletries.
Budget/Basic accommodation in Akagera Park Rwanda
Budget travelers can choose to stay at Dereva Hotel or choose camping. For camping within the park be careful of the gangs of baboons as they can steal your food.
Camping gear can be hired at the park head quarters at an extra fee per night.
Related National Parks in Rwanda – Safaris Parks in Rwanda