Volcanoes National Park
Volcanoes National Park Rwanda
Volcanoes National Park also known as Parc National des Volcans in French is a national park in Rwanda popular for gorilla safaris in Rwanda a former base to the popular primatologist –Dian Fossey. Volcanoes National Park is a top Rwanda Safaris destination and therefore much search for what is latest and a guide to the park. Here is all you need to know for better safari planning including location, best time, what to see and do, accommodation and how to get there;
Location of Volcanoes National Park Rwanda
In the beautiful land of a thousand hills, Volcanoes National Park is situated in northwestern Rwanda in Musanze
Volcanoes Park sits within the Virunga Mountains and covers five out of the eight volcanoes that form the ranges and these are Mount Karisimbi, Mount Bisoke, Mount Muhabura, Mount Gahinga and Mount Sabyinyo.
The park covers an area of about 160 sq km (62 sq mi) of rainforest. Volcanoes Rwanda borders other parks and these are Mgahinga Gorilla National Park in Uganda and Virunga National Park in Congo. All of the three parks form the Virunga Mountains and are adjacent to each other.
History of Volcanoes National Park Rwanda
Initially, the park was first gazetted in 1925 only covering the volcanoes of Karisimbi, Bisoke and Mikeno in Congo with an intention to protect Mountain gorillas from poachers. In 1926, the conservation area was extended into Rwanda and was a single conservation park.
It covered a large area of about 8,090 sq km run by the Belgian colonial authorities. In the 1960's each of the countries got their independence and therefore the parks were divided into two. About 700 hectares of land were also cleared for human settlement in 1958 and more 1,050 hectares cleared for agriculture between 1969 and 1973.
Dian Fossey, arrive in 1967 and set up her base at Karisoke as a Research Centre. She spent most her time in the park and did a tremendous job on conserving Mountain Gorillas. From then Mountain Gorillas got international attention and later her life was portrayed in the film Gorillas in the mist.
By 1992, there were still civil unrest within the park and therefore the Research Centre was abandoned. In 1999, the park was deemed safe and gorilla trekking safaris in Rwanda open to tourists till now.
Best time to visit Volcanoes National Park Rwanda
Volcanoes National Park is within a dense rainforest and therefore rains can be experienced any time of the year. However the dry season is during the Months of June to August and a short dry season between December and February and this is the best time.
This is the best time for both gorilla safaris Rwanda and bird watching tours. Trails are dry and therefore less slippery. Photography is clear too.
How best to get to Volcanoes National Park Rwanda
Getting to Rwanda's Volcanoes National Park is basically by road after arriving in the country by air or still by road. The Kigali International Airport is the main entry for international tourists to Rwanda and from here travels to the park start.
By road, you can get to Volcanoes Park Rwanda by either public means, hiring a cab and most effectively by organizing a trip with a tour operator using a 4×4 safari vehicle. It's about 113km from Kigali to Volcanoes National Park using the shortest route. The drive time is about 1.5 hours.
From Kigali International Airport, it's about 116km on the fastest route taking a drive time of about 2.5 – 3 hours.

Attractions / What to see in Volcanoes National Park Rwanda
The prime Rwanda safari attractions are the Mountain Gorillas and golden monkeys alongside several other animal species and bird species. Here are the attractions in Volcanoes National Park that you will definitely see on a tour in Rwanda;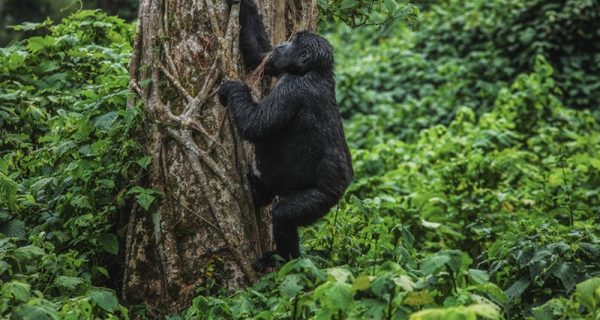 Mountain Gorillas
Volcanoes Park Rwanda is the only gorilla safari Rwanda destination and therefore Mountain Gorillas (Gorilla beringei beringei) are the top attraction in the park. Mountain Gorillas go around with their daily life in the bamboo forest where tourists track and see them.
These are the largest living primates with twelve (12) gorilla families that are fully habituated for gorilla trekking. Each gorilla family consists of at least one silverback (male older gorilla with a silver lining on their back) and several females and youngsters.
Gorilla families in Rwanda are known as Igisha, Susa, Karisimbi, Amahoro, Sabyinyo, Agashya, Umubano, Kwitonda, Hirwa, Ugyenda, Bwenge and Muhoza.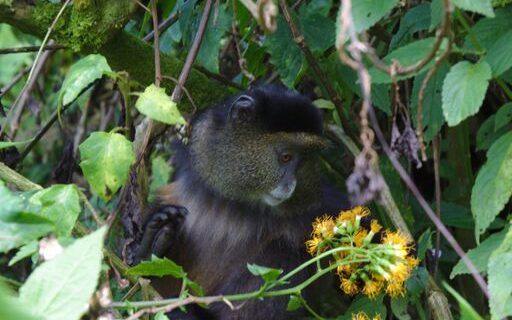 Golden Monkeys 
Rwanda is blessed to be one of the countries where the rare golden monkeys can be spotted. Golden monkeys also known as the Cercopithecus Mitis Kandti is a local sub species of the Sykes monkey also known as the Blue, found in Rwanda too. Golden monkeys are a beautiful specie ranging from their long tail, coat to their playful and intrusive character known to be endemic to the high-altitude forests of the Virunga massif.
Golden Monkeys spend most of their time leaping on the bamboo branches creating beautiful moments glimpsing at during a Rwanda tour.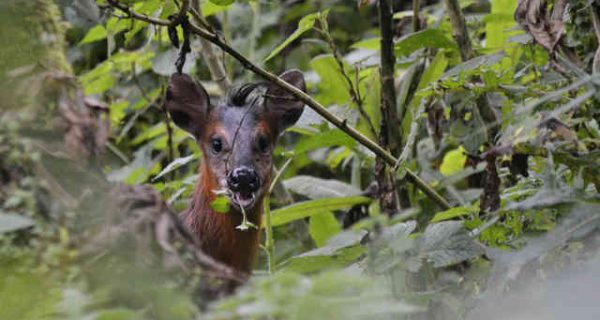 Wildlife 
Additionally to Mountain Gorillas, the park also has hard to see wildlife species. These include the spotted Hyena, Buffaloes, Elephants, Black-fronted duiker, and bushbucks.
Mammals are hard to spot because of the hilly and rugged terrain within a thick rainforest. The mammals have adapted to a solitary or pair lifestyle, shy away from intruders and are very aggressive when cornered in tight corners.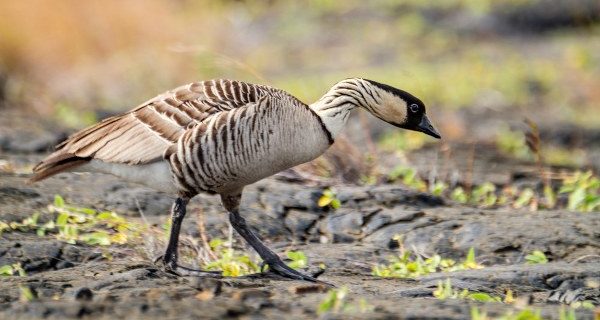 Birds in Volcanoes National Park
Volcanoes park Rwanda harbors about 180 bird species including at least 29 endemics to Rwenzori Mountains and the Virungas. The Grauer's swamp warbler a notable local specialty in the park with at least 16 Albertine rift endemics (Birds restricted to the Albertine rift).
Bird species seen on an Albertine rift birding safari in Rwanda include; the African Green Broadbill, Lagden's Bush-shrike, Red-faced Woodland Warbler, Dusky Crimson-wing, Rwenzori double collared Sunbird, Grauer's Rush Warbler, Kivu Ground Thrush, Handsome Francolin, Rwenzori Turaco, Common Moorhen, Long-Crested Eagle, Grey Throated tit, Paradise Flycatcher, Archer's ground Robin, Collared Apalis, Rwenzori Batis, African Marsh Harrier and many more.
Other common bird species include the Baglafecht weaver, Bateleur, Blue-spotted wood dove, Cinnamon-chested bee-eater and the Red-backed shrike.
Activities / What to do in Volcanoes National Park Rwanda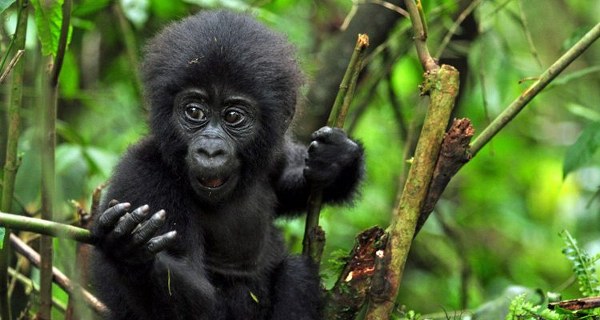 Gorilla trekking safaris 
Mountain Gorilla trekking is majorly described as a lifetime experience, hosted within the Virunga massifs' Volcanoes National Park, Rwanda gorilla trekking safaris are definitely the main draw card for any Rwanda tour.
Mountain Gorilla trekking is the most expensive of the Rwanda safari activities just because Rwanda is a high-end safari destination but also the popularity of the activity worldwide. It was in the bamboo covered slopes of Volcanoes National Park where the late Dian Fossey, a popular primatologist who gave her life to conserve Mountain Gorillas studied the behavior of the endangered species for 20 years.
Ever since then, a few privileged gorilla safari Rwanda tourists have the chance to trek Mountain Gorillas each day. 8 tourists trek a single gorilla family and spend a maximum of 1 hour in the presence of these gentle giants.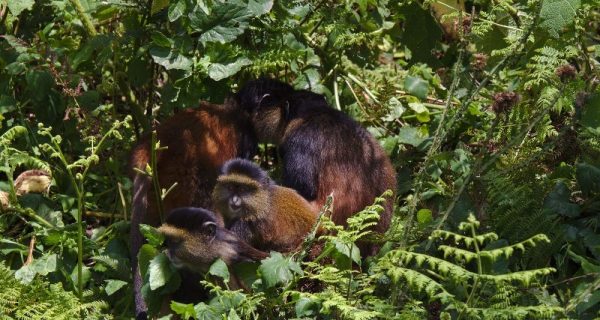 Golden Monkey trekking
Golden monkey trekking is popularly undertaken by safari Rwanda tourists as a combined activity to Rwanda gorilla safaris since they co-exist with the gentle Mountain Gorillas. Golden monkeys move in groups comprising of around 80-100 members and in Volcanoes National Park, there are two habituated golden monkey groups.
So similar to Rwanda gorilla trekking tours, golden monkey trekking is carried out every day by 8:00am Rwanda local time and it lasts about 4 hours though spending only 1 hour in the presence of the golden monkeys.
Thanks to the bamboo forest, it is easy to find the golden monkeys because they mostly live at the bottom of the forest making it easy to trace them. With the less congested bamboo sticks, it is also easy to get good photos as long as a traveler has a lens to capture the beautiful monkeys since they leap so fast.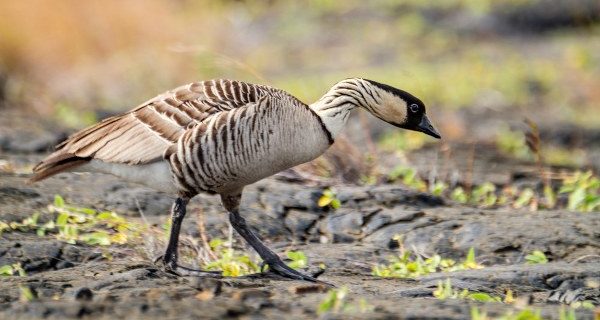 Birding / bird watching 
Due to the fact that gorilla trekking is the popular activity, birding is at times less undertaken in Volcanoes National Park. Some of the bird species seen while birding Volcanoes include the Baglafecht weaver, Bateleur, Blue-spotted wood dove, Cinnamon-chested bee-eater and the Red-backed shrike.
Birding is good year round however the best time to go birding in the park is during the dry season in the months of June to August and in December to February. November to April is when migratory birds can be seen in the park however this is the rainy season.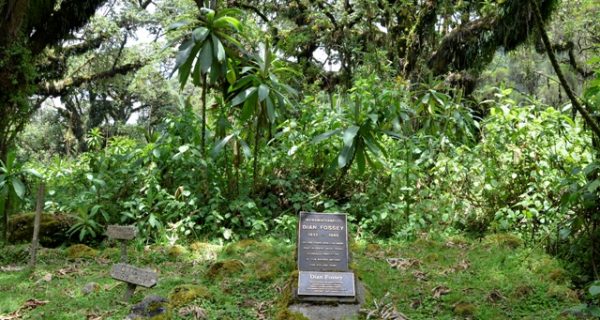 Hiking to Dian Fossey Grave
In the bid to conserve the rare mountain gorillas, the popular primatologist, Dian Fossey lost her life to poachers. Her body was later on buried in the park close to her favorite Gorilla. The hike to the Dian Fossey grave yard is worth doing as it is a learning experience.
The hike provides tourists with an in depth of knowledge about gorilla tourism in Rwanda as well as an American primatologist who sacrificed her life to save Mountain Gorillas. A hike to the graveyard is an appreciation and tribute visit.
Early morning, you have breakfast and then embark on the hike along a trail outside the park. On the hike you can easily spot several bird species. Where she was buried is her grave and those of other Mountain Gorillas that were killed by poachers.
Rwanda safari packages to Volcanoes National Park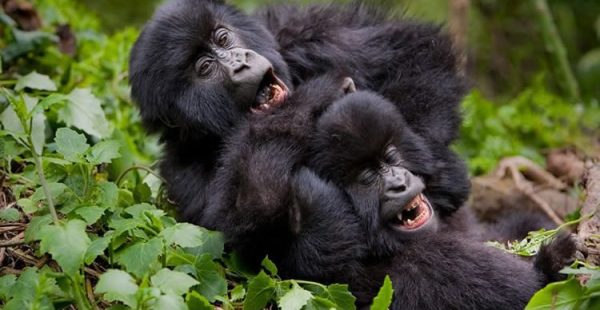 This 3 days Rwanda gorilla safari is a short gorilla trekking safari to Rwanda's Volcanoes National Park. This is the only gorilla safari Rwanda destination situated within the Virunga Mountains in north western Rwanda adjacent to Uganda's Mgahinga Gorilla National Park and Virunga National Park of Congo. Read More
Accommodation in Volcanoes National Park Rwanda
Situated in the foothills of the gorilla land, Volcanoes National Park offers different accommodation facilities ranging from Luxury to Budget. Here is a highlight of a few of the facilities where you can stay;
Luxury accommodation in Volcanoes National Park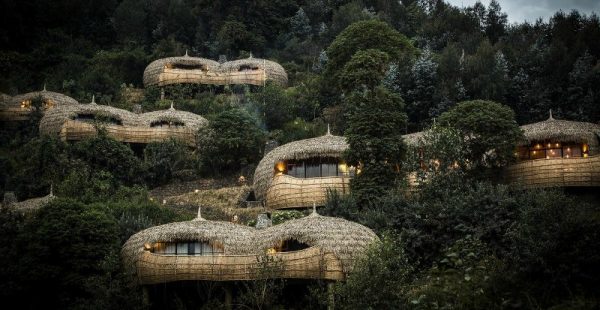 Bisate Lodge Rwanda
Bisate Lodge is located just adjacent to Volcanoes National Park with dramatic vies of the Mountain peaks of Bisoke and Karisimbi volcanoes. The Lodge has six opulent en-suite forest villas that maximize comfort and views while adhering to environmentally responsible principles.
The Lodge is built in a way to reflect the rich culture of rural Rwanda. It's an easy driving distance from lodge to the park headquarters.
Mid-range accommodations in Volcanoes National Park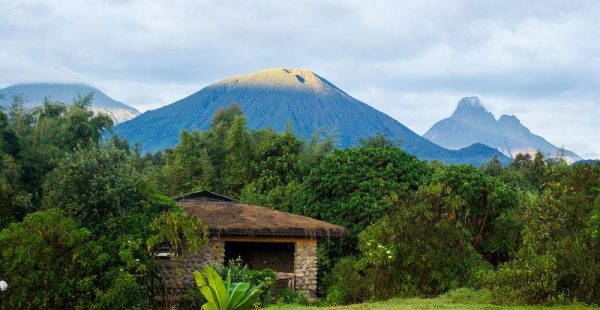 Mountain Gorilla View Lodge
Mountain Gorilla View Lodge is located in Kinigi on the edge of the Volcanoes National Park. The lodge is located on the foothills of the Mount Karisimbi, one of the volcanic mountains that make up the Virunga Massif.
It's about 10 minutes' drive from the lodge to the main entrance of the Volcanoes National Park. Mountain Gorilla View Lodge is an eco-lodge with 30 spacious chalets. To ensure the least disruption of the surrounding environment, the eco-lodge was constructed with locally available material.
Every chalet comes with a sitting area with a fireplace and has a tea/coffee making machine. The eco-lodge supports the surrounding rural community by purchasing farm-fresh produce that is served in the lodge's restaurant.
Budget accommodation in Mid-range accommodation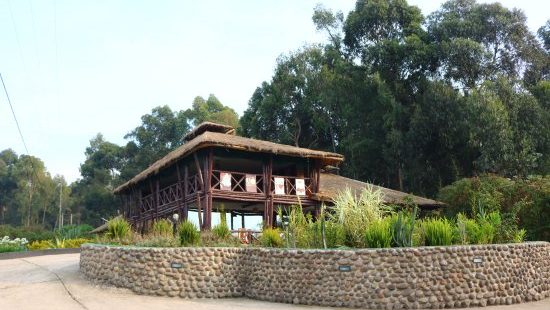 Da Vinci Gorilla Lodge 
Da Vinci Gorilla Lodge is perfectly positioned in Kinigi, Musanze and offers a prime location to those looking to gorilla tracking and exploratory tours within the Volcanoes National Park. he lodge lies in the shadows of Karisimbi Mountain, one of the eight Virunga volcanoes.
Come and experience the opulence of well designed natural rooms, the exceptional restaurant and lounge, great hospitality service – all designed to meet your every want and need.
Related National Parks in Rwanda – Safaris Parks in Rwanda