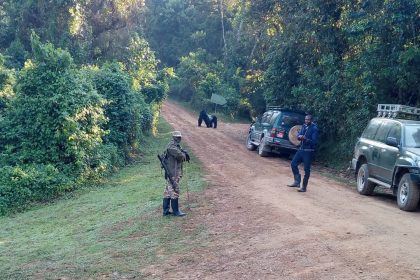 Gorilla trekking made easy: Silverback Gorilla comes to Rushaga sector tracking start point
Rare encounter of a silverback and Bweza gorilla family just at the gorilla trekking start point in Rushaga sector 
Gorilla tracking was made easy this morning as luck just came in for tourists on their Uganda gorilla trekking safaris to Bwindi Impenetrable National Park at Rushaga sector when a silverback gorilla and family reported for "briefing". These were members of the Bweza gorilla family one of the families in the Rushaga gorilla trekking sector.
Mountain gorilla tracking is one of the strenuous and long Uganda safari activities that lasts about 2-6 hours or more depending on where the mountain gorillas spent their previous night. Mountain Gorillas are the only great apes increasing in number and therefore attracted many tourists for gorilla safaris in Uganda especially to Bwindi Impenetrable National Park.
What makes Mountain Gorilla tracking in Bwindi forest an almost day activity is the fact that these gentle giants spend each night in a different location. The silverback (lead elder male gorilla in the family) leads the family to feeding spots as well as nesting places each day. The gorillas make a nest where they spend the night and then after move in search for food in the morning.
The chances of seeing Mountain gorillas increased and the possibility is about 99% for one to glimpse at them on their gorilla trekking safari in Uganda. This is because, the number of the mountain gorillas increased and as well each morning gorilla tracking follow each gorilla family depending on where they spent the previous night. It's after noticing where they are heading to that park rangers are informed of where to take the trekkers.
Many have termed gorilla trekking as a memorable and lifetime encounter because of the liveliness of the activity, its captivating and amazing- no wonder the gorillas share about 98% DNA with humans.
New Uganda gorilla permit price effective 1st July 2020
The Uganda Wildlife Authority has increased the gorilla tracking permit  to new tarrifs as illustrated below;
Foreign non residents: 700 USD from 600 USD
Foreign residents: 600 USD from 500 USD
East Africans: 250,000 UGX
Note: This is applicable for the two Uganda gorilla tour parks of Bwindi Impenetrable National Park and Mgahinga Gorilla National Park.
How to book for a Uganda gorilla trekking safari
Booking for a gorilla tour Uganda can be one of the complicated trips to plan, however just find the right tour operator to do this for you. Wild Jungle Trails Safaris and Gorilla Trail Safaris have expertise in planning gorilla trips in Uganda and can do all the best planning.
For bookings, you can reach us on these emails – wildjungletrails@gmail.com, tours@wildjungletrails.com or call us on (+256) 777690798 / (+256) 414663115.
Affordable Uganda safari packages for gorilla tracking
3 days Bwindi Uganda gorilla trekking safari
3 days gorilla trekking safari Uganda from Kigali
3 days gorilla trekking safari
9 days Uganda primate safari and gorilla tour
16 days Uganda wildlife, gorilla and chimpanzee trekking safari