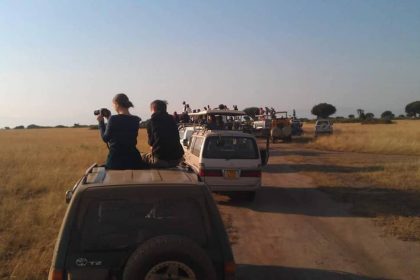 How to keep safe in a National Park –Travel News
Top world bucket list destinations are in many cases national parks alongside other conservation areas. National Parks are conservation areas and deemed to be safe for travelers however, being cautious is vital to keep safe. Here are safety tips on how to keep safe in a national park whether on a Uganda safari or any other destination;
Every national park spends a chunk of its resources to create tails in the park be it for a Uganda gorilla trekking safari, chimpanzee trekking safari or nature walk and therefore endeavor to follow them. Stepping off the trails can easily leave you hurt since some trails are slippery or on cliffs and going off the trail could mean getting hurt.
Keep a distance from wild animals
No matter how habituated an animal is, it still remains as a wild animal and should be treated as so. Always keep at least an 8 meters distance from the animals and avoid touching them. To keep safe, always stay in an intact group with ranger guide. Moving a lone in any national park is dangerous. For Uganda wildlife safari game drives, just always stay in your safari vehicle and view wildlife on the roof top.
Carry enough drinking water
Most African safaris are best undertaken in the dry season and therefore carrying along enough drinking water is recommendable. Do not hike or travel with less drinking water to replenish your body and also for survival in case of anything like car breakdown in the middle of the park.
In most cases, since trips are popular in the dry season light clothes and shorts are recommended. However, always be mindful since the weather can easily change. If it's really sunny wear light clothes but also carry a light jacket. For travelers with health issues caused by weather changes always remember to carry your medication in the backpack just to be safe.
More important information on how to keep safe in a National Park 
Uganda wildlife safari park rules
Do not camp or make campfires except at designated sites.
Do not bring dogs or other pets into the park
Do not litter
Do not bring fire arms or ammunitions into the park
Do not pick flowers or destroy any vegetation
How to book for Uganda safaris
The best way of booking for a Uganda wildlife tour is by contacting a renowned Uganda tour operator. Wild Jungle Trails Safaris has for over 10 years planned thousands of Uganda wildlife safaris to all of the 10 national parks of Uganda as well as other conservation areas and therefore highly recommendable.
What to pack for Uganda wildlife safaris
Before you set out for a wildlife safari to Uganda, proper check your luggage to see if you have these to ensure great wildlife safari experiences;
Carry a high quality camera and a pair of binoculars
Pack a light rain poncho
Pack long-sleeved shirt and pants
Carry sunscreen and insect repellent
Carry a hat with a brim
Popular short Uganda safari packages
2 Days Murchison Falls Safari Uganda
3 Days Murchison Falls Safari Uganda
3 Days Murchison Falls Wildlife Safari Uganda
3 Days Bwindi Uganda Gorilla Trekking Safari