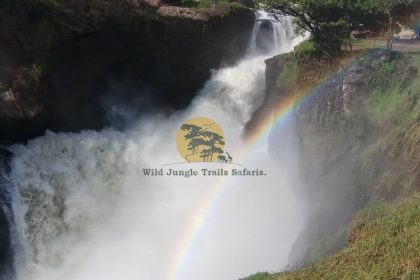 Ugandan Government Rejects planned Power Dam in Murchison Falls – Travel News
Murchison Falls to stay intact after government rejects planned dam construction
The Ministry for Water and Environment says that the Ugandan government will not approve the plan to construct a hydro power dam in Murchison Falls, the heart of Murchison Falls National Park.
In a letter dated June 20th to the Ministry of Water and Environment through National Environment Management Authority (NEMA) from Electricity Regulatory Authority (ERA), there was an application for a feasibility study for a proposed power dam near the Murchison Falls by a South African Company, Bonang Power Limited.
According to the Electricity Regulatory Authority, Bonang Power Limited was planning to build new hydropower dams at Ayago, Uhuru, Kiba and Murchison Falls to generate 2,550 MW of electricity.
This proposal faced resentment from the time many Ugandans came to know about it especially those from the tourism industry. Amos Wekesa one of the tourism enthusiasts, rejected the proposal and referred to it as nonsense.
"Europe is getting rid of hydro power dams. Uganda lies on the Equator. Why can't we explore solar. Are these people (Bonang Power Limited) even Ugandans? Do they care?" Wekesa bitterly queried on a statement with soft power.
Many more individual bitterly rejected the proposal and at least 2,533 people signed a petition to stop the planned construction of a power dam near Murchison Falls after the Electricity Regulatory Authority published the proposal for public views.
Thanks to the efforts, Murchison Falls is luckily not losing its glory and fact that it's a top Uganda safari destination with several attractions and activities.
Wednesday 22nd August, the Minister of State for Environment, Mary Kitutu in a statement to Parliament said that the National Environment Management Authority has not approved the application due to environmental and other socio-economic implications such as tourism.
Kitutu says that after a joint meeting of the ministry of water, NEMA, Uganda Wildlife Authority and Uganda Tourism Board, the ministry rejected the plan.
Kitutu says that constructing a dam will result in flooding at the National Park, which will also affect crocodiles, hippos and other animals, birds in the park.
Meanwhile, the Minister of State for Minerals, Peter Lokeris said a memorandum in cabinet, though not discussed discourages construction of a power dam at Murchison Falls.
The Speaker of Parliament Rebecca Kadaga asked for an official statement from the Prime Minister, Dr Ruhakana Rugunda on the matter.
In the past year Murchison Falls National Park was the most visited destination by tourists on Uganda safaris and this is because of the numerous wildlife and bird life. Not that alone, this is one of the destinations in Uganda where tourists can visit all year round with less climate interferences. Uganda birding safaris as well as wildlife safaris in Uganda are all rewarding at the Park. For its beauty Kanye West and Kim Kardashian West visited the park in 2018.
About Murchison Falls National Park
Murchison Falls National Park is 3,840km2 making it the largest Uganda safari park. With the adjacent Bugungu Wildlife Reserve (748 square kilometers) and Karuma Wildlife Reserve (720 square kilometers) it forms the Murchison Falls Conservation Area.
Formerly known as Kabalega Park, the Park became Uganda's first national park in 1952 when the British administration established the National Parks Act of Uganda.
Best time to visit 
Murchison Falls National Park is a popular Uganda safari destination for tourists on either short or long safaris in Uganda.  No matter the time of the year Murchison Falls National Park is the best park to tour all year round with less weather interferences.
Attractions / what to see in Murchison Falls National Park Uganda
Hosting about 76 mammal species, Murchison Falls National Park is a great Uganda wildlife safari destination. The four of the "Big Five" sought after Africa safari animals; Buffaloes, Lions, Leopards and Elephants can be seen at Murchison Falls National Park. This is the best place to see the giraffes in Uganda and world over, the park has the highest population and can only be seen at Murchison Falls National Park and Kidepo Valley National Park in Uganda.
Several other wildlife species that can be seen in the park include the waterbucks, bushbucks, Uganda Kob, Jackson's hartebeest, warthogs, olive baboons, blue and red-tailed monkeys, black and white colobus monkeys, patas monkeys and many more. Aquatic species found in the banks of the Nile River as it continues to flow northwards include the hippos and crocodiles (Uganda's largest population).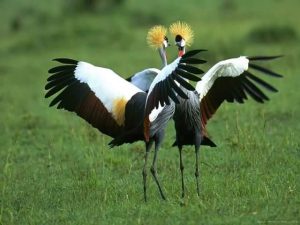 With the varied habitats, about 450 bird species are present at Murchison Falls National Park. Bird species include water birds like the rare Shoebill stork, Weaver birds, the Grey Crowned Crane (Uganda's national bird), Malachite Kingfishers, the Blue-headed Coucal, Swamp Flycatcher, African Quail-Finch, Squacco Heron, African Jacana, Black-billed Barbet, Sandpipers, Abyssinian Ground-Hornbill, Denham's Bustard, Black-headed Gonolek, Red-throated Bee-eater, Eastern Grey Plantain eater, and many more .
There also the Budongo forest 59 restricted range bird species which include the Dwarf Kingfisher, Goliath Heron, White-thighed Hornbill and the Great Blue Turaco. With these several bird species in the park it has attracted many avid birders and becoming a top Uganda birding safaris tours destination.
Murchison Falls is the highlight of the Murchison Falls National Park. Murchison Falls is a beautiful feature formed as the Nile River waters squeeze through a narrow 7 meters (23ft) wide gap of rocks then plunge into what is known as the devils cauldron, 43meter (141ft) below with a thunderous roar, water spray and beautiful rainbow. The falls actually lends its name to the park. The spot is so spectacular for photography and sightseeing.
Kaniyo-Pabidi and Budongo forest chimps
The forest trails of Kaniyo-pabidi and Budongo forests south west of Murchison Falls Conservation Area are host to chimpanzees. Chimpanzees can be tracked in the Kaniyo-pabidi and Budongo Forest with about 800 of them living there and habituated for tracking. Within the forest, there about 24 mammal species, 465 plants and 360 birds enriching all kinds of safaris with great memories.
Popular Uganda safari packages to the Park
Murchison Falls National Park is indeed one of the most inclusive Uganda safaris destinations with wildlife, waterfalls, bird life within a beautiful savannah plains area and great accommodation facilities. Here are safari packages to Murchison Falls National Park;
A visit to Murchison Falls Park can be tailored with other destinations in Uganda or also Tanzania safaris, Rwanda tours, Kenya safaris or even long Congo safari tours. For all kinds of travelers including families, groups, solo travelers, this Park is a rewarding all year round destination that will meet your tour expectations.