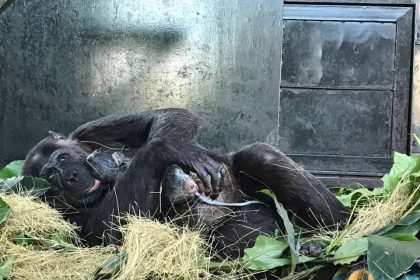 Natasha gives birth to baby girl – 50th chimp resident of Ngamba Island Chimpanzee Sanctuary
World's Most Intelligent Chimpanzee Natasha Gives Birth to Baby Girl at Ngamba Island Chimpanzee Sanctuary. Natasha, a female chimpanzee of Ngamba Island Chimpanzee Sanctuary who was named the world's most intelligent chimpanzee gave birth to a baby girl, the 4th born baby chimpanzee in the Sanctuary.
Natasha was confirmed pregnant after regular pregnancy checks among chimpanzees and gave birth on Tuesday 3rd September 2019 at 5:40pm.
The baby girl and the mother are doing fine and wait naming.
Her birth brings the total of chimps at the Sanctuary to 50 with 30 females and 20 males.
The 4 "captive born" chimpanzees are 3 females which are Kyewunyo, Ruparelia and the newly born and 1 male known as Eazy.
About Natasha, the female chimpanzee at Ngamba
Estimated to have been born in 1990, Natasha originated from Kibale at Itwara National Forest and rescued from Arua.
Among the first 19 chimpanzees to arrive at the Sanctuary on 12th October 1998, she's one of the popular chimpanzees at the sanctuary.
She has always been extraordinary and different from her peers as she learned to escape from her enclosure, teases human caretakers and scores above other chimps in communication tests. On a research Natasha was found the smartest chimp among the 106 that were tested. She became the chimpanzee genius.
Despite being on contraceptive implants, Natasha continued cycling and gave Ngamba Island the fourth baby born on the Island for the past 20 years.
About Ngamba Island Chimpanzee Sanctuary
Ngamba Island Chimpanzee Sanctuary is a chimpanzee rescue sanctuary ran by Chimpanzee Sanctuary and Wildlife Conservation Trust (Chimpanzee Trust).
This is a registered Non-Governmental Organization that manages Ngamba Island Chimpanzee Sanctuary on Lake Victoria.
This is the only island chimpanzee sanctuary in the world and now home to 50 chimpanzees. The sanctuary was established primarily for the long term management of confiscated individuals that cannot be returned to the wild and over the years, the number of chimpanzees at the island has increased at an approximate rate of 2 chimpanzees per year.
Surrounded by the peaceful waters of Lake Victoria, Ngamba Island Chimpanzee Sanctuary is home to 50 orphaned chimpanzees rescued from across East Africa.
Ngamba Island is the closest place to have a primate tour in Uganda after arrival at Entebbe International Airport. A visit to the island is possible on a 1 day trip or even more days.
For travelers on Uganda safaris that can't travel up country to trek chimpanzees in Kibale Forest National Park, this is the best option. Uganda chimpanzee trekking safaris can also be combined with a visit to the island especially if one needs to compare the chimp behaviors in the wild and in a controlled environment.
Uganda tours offer a lot and therefore it's advisable for travelers on long safaris in Uganda to combine chimp trekking with Uganda gorilla trekking safaris and wildlfe safaris Uganda.
For bookings, you can reach us on these emails – wildjungletrails@gmail.com, tours@wildjungletrails.com or call us on (+256) 777690798 / (+256) 414663115.
 Top Uganda primate safari packages 
9 days Uganda primate safari and gorilla tour