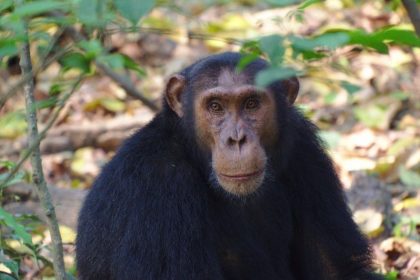 Where to See Chimps in Uganda/Where is the Best Chimpanzee Trekking in Uganda?
Uganda has the highest population of chimpanzees in the world and therefor many wonder where to see chimps in Uganda. Worry not, here is what you need to know about chimpanzee trekking and the best chimpanzee trekking destinations in Uganda;
A brief guide about Chimpanzee trekking in Uganda
Chimpanzee trekking in Uganda is usually one of the top choices for Uganda safari tourists. Chimpanzees are man's closest relatives sharing about 98.7% DNA with ability to adapt to their environments just like humans. Chimpanzee tracking in Uganda is known to be very memorable due to the large chimp numbers in the country.
With about 170,000 – 300, 000 chimpanzees remaining in the world's wild, Uganda alone has more than 5000 chimpanzees with hundreds of them habituated for chimpanzee tracking. In Africa 21 countries have chimps in the wild and there's no better destination for chimpanzee trekking than Uganda and one of the country's top attraction.
Where to See Chimps in Uganda
Wondering where to see chimps in Uganda? Here are the chimpanzee trekking destinations in Uganda with reason as to why you should choose each;
Kibale Forest National Park
Known as the premier Uganda chimpanzee trekking safari destination, Kibale Forest National Park hosts the biggest population of chimpanzees in Uganda. With more than 1,500 chimpanzees, in Kibale forest the park is known as the world's primate capital. Chimps are tracked along the Kanyanchu primate walk trails where there is a possibility of sighting other primate species like the vervet monkeys, red colobus monkeys and many more.
For travelers planning to trek chimps in Kibale Forest National Park, you can opt for either a morning or evening chimpanzee trek. For over 25 years chimpanzees have been tracked in Kibale Forest and therefore there about 99% chances of coming close to these man like animals. Early permit booking is recommendable for Kibale Forest chimp tracking.
Just adjacent to the popular Murchison Falls National Park, Budongo forest is the other great chimpanzee trekking destination in Uganda. Budongo forest is the nearest of the chimpanzee trekking safari Uganda destinations just a 4 hours drive from Kampala- Uganda's capital. A chimp trek in the Kaniyo-pabidi sector of Budongo Forest is the best way for tourists to have a primate encounter even on just a 3 days Murchison Falls wildlife safari Uganda.
Like no other, Kyambura gorge is an underground forest in Queen Elizabeth National Park with a few chimpanzees habituated for trekking. Having a few chimpanzee individuals, Kyambura gorge offers priceless safari moments as tourists get the chance to walk in a valley that is densely forested. Approximately 1km across at its broadest point and about 100 meters deep, this is one of the scenic places a traveler can ever visit.
Important information on chimpanzee trekking in Uganda
Early permit booking is required for chimpanzee trekking especially for Kibale Forest National Park.
Early arrival to the park to allow registration and briefing is recommended.
Contact time with chimpanzees is limited to one (1) hour.
Each trek group size constitutes of a maximum of 6 trekkers.
All participants must be aged 16 and above
Note
For tourists who would wish to have more time with the chimpanzees, the chimpanzee habituation experience in Kibale Forest National Park is the best option. Chimpanzee habituation offers tourists a visit to the chimps that are less familiar to tourists accompanied by researchers and habituates.
For tourists with limited time, the Ngamba Island Chimpanzee Sanctuary is the ideal option. This chimpanzee sanctuary is the only island chimp habitat in the world playing host to orphaned chimpanzees from all over the world. A visit to the island can be even a one day tour to the island.
Where to See Chimps in Uganda itineraries
9 days Uganda primate safari and gorilla tour
For bookings, you can reach us on these emails – wildjungletrails@gmail.com, tours@wildjungletrails.com or call us on (+256) 777690798 / (+256) 414663115.
Authored By  Wild Jungle Trails Safaris