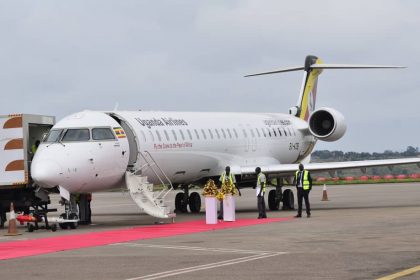 Uganda Airlines takes inaugural flight to Nairobi
Today Tuesday 27th August 2019, Uganda Airlines is having an Inaugural flight to Nairobi – Jomo Kenyatta International Airport before their maiden flight tomorrow Wednesday 28th August 2018. The flight today is just a ceremonial flight to officially launch the Uganda National Airlines. Tomorrow Wednesday 28th August 2018, commercial flights to four regional destinations will officially start.
The inaugural flight will be at exactly 11:10 am with government officials, members of the business community, partners and journalists on board. The chief guest is the Vice president of Uganda Hon. Edward Kiwanuka Ssekandi.
To which countries will Ugandan Airlines fly to?
Commercial flights by the Airlines will be to destinations like Burundi, Kenya (Mombasa Moi International Airport and Nairobi Jomo Kenyatta Airport) Somalia, South Sudan and Tanzania (Kilimanjaro International Airport and Mwalimu Julius K.Nyerere International Airport)
How to book for a flight with Uganda Airlines
Booking a flight can be done on the Airlines website at excitingly low prices. Flights can actually be booked in Ugandan shillings.
For the maiden flight, prices for a return ticket are
Ticket Price – $45.0
Tax – $107.20
Surcharge – $80.0 Total – $277.20
What to expect on a Uganda Airlines Flight
The Airlines has done Uganda proud by flying the Ugandan flag high; however, a lot should also be expected for travelers ready to take flights with the airlines. Some of the surprises on the airlines are the foods going to be served on the airline and these include;
Rolex (rolled eggs in a chapatti)
Katogo (mixture of different foods)
This menu is one of a kind and will greatly celebrate Uganda and the local dishes.
What positives come with the Airlines?
Welcoming the Uganda Airlines flights within the region means increased travels within the East African region and therefore more safaris. Flights connecting Uganda, Kenya and Tanzania will increase Uganda safaris, Kenya tours and safaris in Tanzania.
Uganda gorilla safaris to the different destinations are now so possibly tailored with hiking safaris Tanzania and also Kenya safaris.
For bookings, you can reach us on these emails – wildjungletrails@gmail.com, tours@wildjungletrails.com or call us on (+256) 777690798 / (+256) 414663115.
Authored By  Wild Jungle Trails Safaris