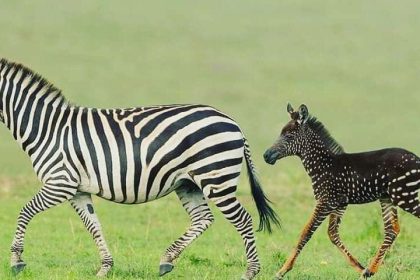 Rare Colored Baby Zebra Spotted in Maasai Mara Reserve, Named Tira –Travel News
A genetically mutated Zebra was seen in Maasai Mara National Reserve by a guide who named it after his surname Tira. The Rare colored Baby Zebra Tira has patterns that appear like Polka dots. Pictures of the rare colored baby Zebra were taken by a tour guide turned photographer Antony Tira.
Mr. Antony Tira spotted and photographed the incredibly rare "blacker" foal and the discovery caused a stampede in the reserve as Kenya tour guides and photographers rushed out on a look out along the Mara River to see and photograph this rare baby zebra.
"At first I thought it was a zebra that had been captured and painted or marked for purposes of migration. I was confused when I first saw it," Mr. Tira told the Nation.
He added on and said that on closer examination he realized that what he was seeing was actually a zebra with melanin disorder. It was hardly a week old, it appeared weak and very different from the others for it has not stripes and was stuck close to a female adult zebra, probably its mother.
Matira Camp Wildlife specialist Parmale Lemein indicated that there has never been any recorded case of such a rare zebra in Maasai Mara Game Reserve. Lemein added that none of the zebras with such a condition in other game parks in Africa has survived for over six months after birth.
Zebra Fact File
These rare spotted zebras according to experts can live for up to six months or even more
Zebras are actually black animals with white stripes
Zebra stripes are an adaptation to nature. They help them destruct insects and flies because of the monochrome pattern.
Zebras are single hoofed animals native to Africa
Each Zebra specie has a different general pattern of stripes.
Each Zebra stripes are unique to a single individual just like human figure prints
Zebras eat mostly grass and a few eat leaves and twigs
Baby zebras are known as foals
A Zebra gestation period last about 12- 14 months
About Maasai Mara National Reserve
Maasai Mara National Reserve also known as Masai Mara Game Reserve is a large reserve situated south west of Kenya in the Narok County contiguous with Tanzania's Serengeti National Park. This is one of Africa's most diverse and spectacular eco systems named in honor of the Maasai people who were the ancestral inhabitants of this region. According to the Maasai local language, Mara refers to spotted therefore describing how the reserve is dotted with several trees. Known for its exceptional wildlife populations like that of lions, the wildebeest migration is a highlight for Kenya safaris tours to the reserve. Here is a guide on the background, location, attractions, activities, best time and accommodation facilities around the reserve to help travelers plan;
Background of Maasai Mara National Reserve
In 1961, the now reserve was established as a wildlife sanctuary at the time covering 520 square kilometers (200 sq mi) with the Mara Triangle. Later on the same year, the area was extended to the east reaching 1,821 square kilometers (703 sq mi) then turned to a game reserve. From then however, the Narok County Council took over the reserve management and in 1974 they gave back part of the reserve to the community and the remaining part given a national reserve status. By 1976, the reserve had reduced to 1,510 sq km after more land was returned to the community. The Trans Mara County Council and the Narok County Council divided control over the park till 2001 when the not-for-profit Mara Conservancy took over management of the Mara Triangle.
Location of Maasai Mara National Reserve
Situated in South Western Kenya, the Maasai Mara Game Reserve is within the Narok County covering 1,510 sq km (580 sq mi). The reserve is located in the northern most section of the Mara – Serengeti eco system. The reserve is bordered in the south by the Serengeti National Park, in the west by the Siria escarpment and in the north and east by the Masai pastoral ranches.
The reserve is mainly drained by the Talek and Mara Rivers with the terrain mostly covered by open grasslands and distinctive acacia tree in the south east. The reserve altitude ranges from 1,500 -2,180 m above sea level.
Safari attractions and activities in Maasai Mara National Reserve
Wildlife Maasai Mara National Reserve
Well known as a Kenya wildlife safari destination, Masai Mara is home to the wildebeest in Kenya. The Great wildebeest migration in the Kenya sector occurs every year between July and September as the plains are dotted black by the over 1.5 million wildebeest, zebras and other antelopes migrating from the Serengeti in Tanzania. This is the world's largest roaming animal group and very amazing to sight.
Other wildlife species within the game reserve include the cheetah (fastest land animal), all of the big five game and these are the Buffaloes, Rhinos, Lions, Leopards and Elephants. More wildlife species include the Elands (world's largest antelope), giraffe, impala, topi, gazelle, Coke's hartebeest, warthog, hippos, Defassa waterbuck and many more.
The best way of seeing wildlife up close in Masai Mara game reserve is by undertaking a game drive through the plains. Game drives can either be done in the morning or in the afternoon, alongside a knowledgeable driver guide. Masai Mara Game Reserve does not allow night game drives and park rules and regulations must be followed.
Birding in Maasai Mara National Reserve
With about 500 bird species known to be within the boundaries of Masai Mara National Reserve, this is a great bird watching safari in Kenya destination. Some of the bird species seen in the park include the Superb Starlings, Lilac-breasted roller, Little bee-eater, Ostriches, Kori bustard, Southern ground hornbill, Denham's bustard, Ross's turaco, Schalow's turaco, Grey Kestrel and many more.
Areas along the Talek and Mara Rivers are some of the important birding areas.
Maasai people live just outside the Maasai Mara National Reserve in their local community that gained the reserve its name. The Maasai are semi-nomadic depending mainly on livestock including cattle, goats and sheep. They live in small settlements of about 8-15 people in houses protected by thorn bushes or fencing.
A visit to the Maasai Manyatta is a great experience as travelers visit the local community called the Mara Rianda which consists of 48 traditional houses surrounded by a cattle enclosure. In these Manyattas, you experience a very authentic and unchanged life of the traditional Maasai people.
Best time to visit Maasai Mara National Reserve
Being a top wildlife safari destination, the best time of the year to visit Masai Mara National Reserve is between the months of July – October. This is the best time for seeing the wildebeest migration as well as other wildlife species. In this time of the year, the wildebeest move from Serengeti National Park of Tanzania to the Masai Mara area.
Getting there/distance to Masai Mara National Reserve
Getting to Masai Mara reserve can either be by air or road depending on what is convenient.
By road; From Nairobi, Kenya's capital, the reserve is about 270km away on a drive of about 4-5 hours on a good surface road till Narok town. From Narok town, you take a dirt road till the Sekenani gate.
By air; A flight to the reserve may last about 40-45 minutes. Safarilink operates two daily flights to and from the Maasai Mara to any of the eight major airstrips in the reserve.
Safaris to Kenya's Maasai Mara where the rare colored baby zebra was spotted can be tailored along with other East African safaris like Uganda gorilla trekking safaris, wildlife safaris in Uganda, Rwanda safaris, Congo safaris or safaris in Tanzania.
For bookings, you can reach us on these emails – wildjungletrails@gmail.com, tours@wildjungletrails.com or call us on (+256) 777690798 / (+256) 414663115.
Authored by Wild Jungle Trails Safaris